The April edition of "Ebony" magazine handpicked eight Africans for their contributions to the world. Three female Africans made the list for the urban publication's series, "Ebony In Africa. The females included are Sudanese supermodel
Alek Wek
, Nigerian author
Chimamanda Ngozi Adichie
, and Ethiopian designer
Gelila Assefa
.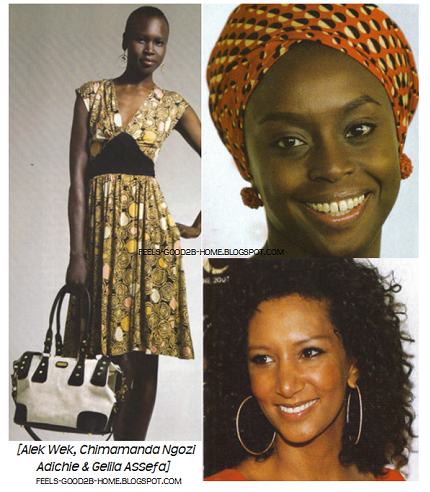 The men that made the list are Tanzanian architect
David Adjaye
, South African singer
Johnathan Butler
, Zimbabwean co-founder and CEO of The Africa Channel
James Makawa
, Malian filmmaker
Manthia Diawara
, and Nigerian computer scientist
Philip Emeagwali
.
Urban publications
are realizing the excellence
of Africans as VIBE magazine also highlighted popular blog,
NAIJARULES.COM
. Ebony in Africa list moved me to do one of my own....
Here's
my
list that some of you
may or may not like
:
1.
Nigerian bloggers
have made a significant impact in conveying a positive outlet of how the world perceives Africa as a whole. Disagree, take a look at my blogroll.
2. The blogger who wrote
THIS LIST!
Everything on that list echoes the mindset of Nigerians.
3. It took a scandal for
THIS DAY JOURNALIST Nduka Obaigbena
to get noticed.
4.
THE MAN BEHIND THIS MOVIE
!
5. Each and every one of
THESE FOLKS
including
Sade, Ayo,
and
Seal
.
6. The creative minds behind
NAIJALIVE.NET
!
If you would have made a list of notable Africans and their significant contributions, who would have made the list and why?