CNN correspondent
Lola Oguinnake
, UK artist
Estelle
, U.S football player
Adewale Ogunleye
and actor
Boris Kodjoe
were seen at the 2008 Essence Music Festival in New Orleans, Louisiana. (Wale came along with
his girlfriend Sanaa Lathan
while Boris took photos with
Ruby from the Cosby Show
Keisha Knight-Pulliam
.)
Photos: WIREIMAGE
"Clutch" magazine
caught up with Boris who talked about his new film, "All About Us" and
juggling his career with his family
.
(Photo credits:
Boris-World
, Google Images)

Check out a few quotes from the interview as written by
Erin Whitlock
....
Clutch: Wow, that sounds interesting! Now, you also have a new movie coming out, All About Us, which boasts a knockout cast (Morgan Freeman, Ruby Dee, LaTanya Richardson Jackson). Tell us about it.
Boris: It's a true story about a couple who are both filmmakers in Hollywood, who become disillusioned with the politics of the industry and the roadblocks they constantly encounter on their way to realizing their dream of being successful filmmakers. They travel all the way to Mississippi to find Morgan Freeman and persuade him to be in their movie. While on the road, they answer questions that have gone unanswered about what's important in their life; what their priorities are and where family falls within the whole system of being successful. It's a very interesting movie. I was attracted to it because it was a role that I usually don¢t get offered. I loved the passion Christine and Michael Swanson had for their script, and I wanted to be part of their journey. It was a true labor of love and teamwork was essential. The experience left me high on life and on family, and clear about one thing: When you put family first, the happiness that comes from that makes everything else fall into place.

Clutch: How was it working with such an amazing group of seasoned actors?
Boris: Well, Morgan Freeman made a cameo appearance, so I didn't get to work with him at all actually. But, Ruby Dee, obviously is a legend on the screen. The energy on the set was just amazing. She's just so wise, and talking to her and being in her presence was such an honor to me and everybody else as well. It was something I will never forget; it was truly an amazing experience.
On his family:
Clutch: Since the movie is essentially about family, let's talk about that. You and your wife (Nicole Ari Parker) are the proud parents of two beautiful children (Sophie, 3 and Nicolas, 1). What has fatherhood been like for you?
Boris: It's absolutely amazing. It's turned my life upside down. I could have never imagined it having such an impact, but it's been the best experience of my life. It's amazing every day. When you see those little people grow up and you start to notice little things in their personalities that remind you of yourself and your wife. They've taught me so much about myself and what's truly important in life. Children give you invincibility in a way. Because all of a sudden, everything else becomes so unimportant and falls by the wayside. It makes you very relaxed about everything else. It takes the pressure off, but at the same time, it gives you a newfound purpose. It's funny because we're always talking about how we never remember what we were doing before kids. There was really no purpose in doing what we were doing, until we had children.

Clutch: Is it difficult juggling your home life with your hectic work schedule?
Boris: It's a challenge; it's harder sometimes than others. But I have an amazing wife who is on the same page when it comes to family. We decided that family comes first and that everything else comes second. So once you make that choice, it becomes a little easier because you've stripped yourself of those anxieties of not being in LA so much or not getting a certain job. All that stuff becomes unimportant very quickly. Once you embrace family and your kids and marriage, that becomes the nucleus of your life. Everything else happens sort of by itself. Everything falls into place.
quotes:
CLUTCH magazine
Check out the "All About Us trailer as seen on
Black Voices Blog
:
Christine Swanson's celebrated feature All About Us (the companion film to her feature All About You) is an inspirational and refreshing romantic drama inspired by a true story. When a filmmaking couple hits a brick wall in Hollywood, they set off to Mississippi to find Morgan Freeman and persuade him to star in their next movie. When life gets in their way, the couple soon discovers what matters to them most. Beautifully told with stellar performances by Boris Kodjoe, Academy Award nominee Rudy Dee and special appearance by Academy Award winner Morgan Freeman against the backdrop of Hollywood and the Mississippi Delta, All About Us is an entertaining and heartfelt story that provides insightful commentary on the familial rifts that ambition often creates.

[

FAITH FILM WORKS

]
"All About Us" can seen at
your local DVD store since its July 1st release date
...and I'm heading off to Netflix/Blockbuster for my copy, lol! Speaking of which, do rent "American Nurse" from your local African markets. ;-)
So far, Armani Prive, Chanel, Christian Dior, Christian Lacroix, Elie Saab, Givenchy, Jean Paul Gaultier and Valentino had their
Fall 2008 haute couture runway shows
. Givenchy and Jean Paul Gaultier were the designers that had diverse models.
Lakshmi Menon
,
Jourdan Dunn
, and
Sessilee Lopez
modelled at the Givenchy show.
Chanel Iman
and Jourdan also appeared at the Jean Paul Gauliter Fall 2008 couture show. Maybe I am truly mistaken but the aforementioned models are the ones I discovered in
spite of the Vogue Italian issue
.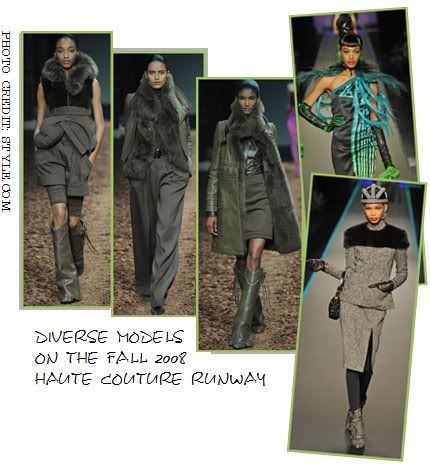 3 diverse models
at Givenchy and
two
at Jean Paul Gauliter. Better than
none
, I suppose? I agree with the 'few black models at Paris Fashion Week' theory made by
Make Fetch Happen
.
Photos: STYLE
Speaking of fashion,
designer
Ozwald Boateng
was spotted at Pharrell's after-party bash at the Maddox Club in London. Sorry ladies
Ozwald's happily married
!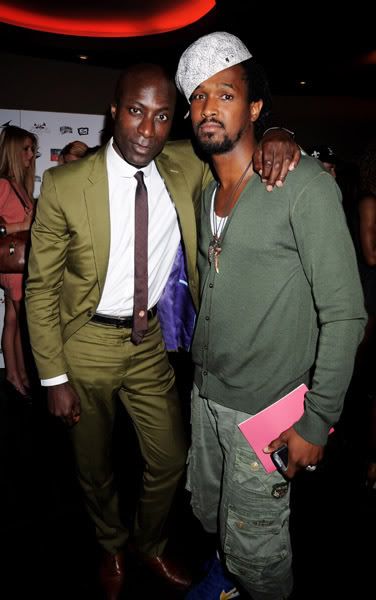 Lemar
has been a busy man since
I last did an quick update on him
. (He became a father earlier this year.) Lemar was seen at the U.K premiere of "Hancock" with a lady friend. He later snapped photos with
Leona Lewis
at the O2 VIP Lounge.
Photos: WIREIMAGE
Celestina
added this new video blog about her dance career. The clip also features her "Dancelife" co-stars. Check it out:
Rants/thoughts:
1. Don't you know of someone who was sent home because of 1.) - bad behavior that only the elders can straighten and 2.) they need to become African/Nigerian-ize. (LMAO!)
2. Simply why do folks from home call you at 2 in the morning because it's afternoon over there??! WHY?!? This gets on my last nerves especially when I have a long day ahead of me. Then when you try to call them back at 2 in the morning just for the sake of it, their phone is shut off! Things that make me go hmm...
3. Any suggestions for the Naija site to visit?
disclaimer: all rants/thoughts are in good humor!

Afro/Naija links: