Ayo
was invited to check out Chanel's Summer/Spring 2009 Haute Couture show in Paris. (Ayo was there last year too.)
What a lucky girl is she! Can we all take a moment to look at that python clutch Ayo has!!? Ayo got to sit front row with
Chanel's current AD camapaign model Claudia Schiffer
.
Photos: WIREIMAGE/AP
Ayo's best known for wearing
silk colorful head wraps
but at this aforementioned recent fashion event she did not wear one. Let's take a moment to reflect on Ayo's style...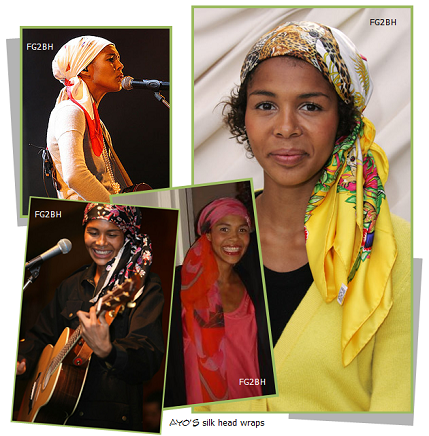 Great stuff!
Photo credits: MYSPACE/
PIERRE-JEAN.NET
/WIREIMAGE
Estelle
pose with her Homeschool Records boss John Legend for the August 2008 edition of "Q" magazine. She just posted up the spread on
her official myspace page
: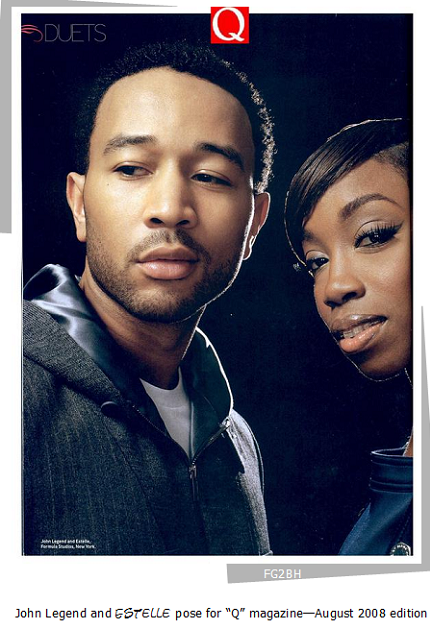 When John was asked about what's special about Estelle, he responded with, "She just sounded fresh. The kind of music that I, as a fan, was wanting to hear." Estelle agreed with, "John was the first person who stuck to his word when he said, 'I'll sign you.' I liked what John was about. With some people it's like, 'Oh, this is the most draining experience of my life!' And it's never like that [with him].
Estelle even too time to
clear up the drama over her comments on Duffy and Adele
in the interview.
"Argh! They lost their minds with that one. Someone asked me whether I thought Adele and Duffy was soul music and I said, "The songs aren't particularly soul to me." I don't have any personal beef with any of the artists. Adele even called me back and said, "It's nothing...I love your songs."
Photography: Matthias Clamer for "Q" magazine

Iman
was spotted solo in Soho. (Thanks
YBF
!) Ever since talk of
July 2008 Vogue Italia's All Black issue
quickly shook the blogosphere, Iman has been vocal about the situation. Senegalese models were
seen on the runway during Paris Haute Couture week
.
Speaking of Iman, her country
Somalia's 48th independence celebration
is
today
. Somalia declared its independence back in 1960. Check out this YouTube clip taken from the 16th Anniversary of Somaliland Independence Day in the UK:
Afro/Naija News: