TONS
of Afro/Naija events went down since I last updated. So what happened??! Well I suggest that you continue reading to find out. Former South African president
Nelson Mandela's
90th birthday celebration had the who's who in Hollywood in attendance.
Naomi Campbell
partnerned up with
Ozwald Boateng
and
Nduka Obaigbena
for this year's ThisDay music/fashion festival in Nigeria.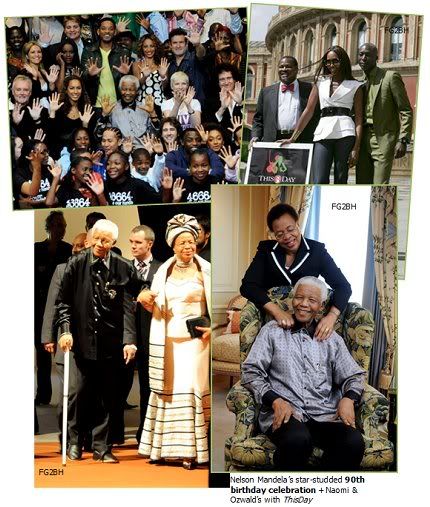 Photos: WIREIMAGE
Celebrity guests at Mandela's birthday included Oprah Winfrey, Will Smith, Jada Pinkett Smith, Naomi Campbell, Leona Lewis, Forest Whitaker, Keisha Whitaker, Lewis Hamilton, Nicole Scherzinger, and Bill Clinton.
Of course Nelson's wife was right by his side during the photo sessions at London's Hype Park.
Aww...
Photos: WIREIMAGE
Nduka Obaigbena
alongside Naomi Campbell (in a
YSL
jacket and
Chloe
shades) and fashion designer
Ozwald Boateng
had a photocall at Royal Albert Hall in London.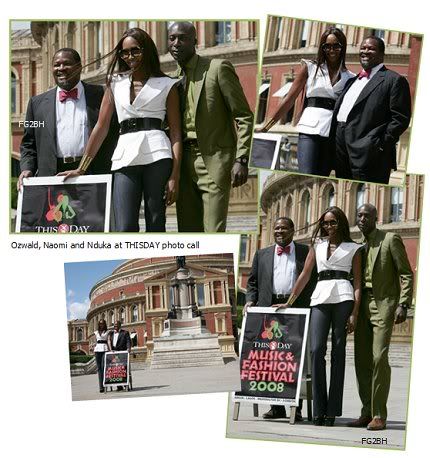 Nduka happens to be the media guru behind the
highly successful ThisDay music festival
in Nigeria. Our great friend
Bella Naija
has a fabulous must-see video from the photocall session. The event supported Nelson Mandela's
46664 charity organization/annual concert event
.
Photos: WIREIMAGE
Speaking of Naomi,
Stereohyped
reported that there's unsettling conflict between her and Nelson. In the past, Naomi has gone on record to call Nelson her "
honorary godfather
". After all she has been a
firm supporter of Nelson
.
Thanks
Black Gives Black
for photos!
Nelson Mandela might be turning 90, but he still keeps up with the news. That's why he has personally banned his (ex?) friend Naomi Campbell from making an appearance at his birthday bash. He didn't much like how she threw a temper tantrum at the airport, and he really didn't like that she was wearing a 46664 cap, representing Mandela's prison number and charity, when she did it.

[

read more

]
Hopefully if this report is true Nelson and Naomi can be put aside their differences. Maybe this ban
tough love
is something Naomi
needs at the moment
. (-shrugs shoulders-)
Barack Obama
can be seen on the
current cover edition of "Rolling Stone" magazine
and
Will Smith
wants to
portray him in a biopic
.
(Thanks
Concrete Loop
!)
Will as Barack is believable right down to the ears. Don't you agree?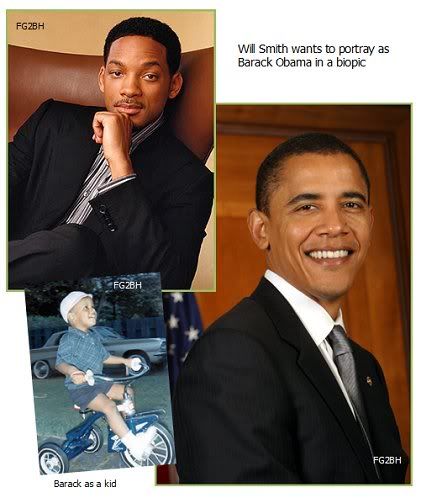 Check out Genevieve Nnaji and Ramsey Noah in Naija film, "Honey" over at
this hot YouTube fan-made page
. American black films has Gabrielle Union and Morris Chestnut and we have Nnaji and Noah!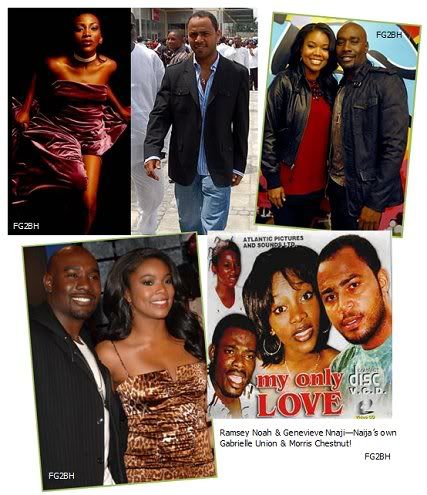 Snag loads of photos of Nnaji and Noah over at
ARIYA ENTERTAINMENT
! (You can check
me
out on that site!)
Sophie Okonedo
pose for
Want to See More of Me
portrait.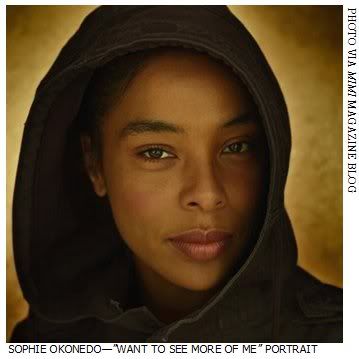 "Want to see more of me?" is a striking new series of portraits of talented and successful black British film actors by photographer Donald MacLellan, funded by the UK Film Council.

[

MIMI

]
Read up about Sophie's portrait gig over at
"MIMI" magazine
.
Thandie Newton
has a new film role in Guy Ritchie's "RockNRoll" and you can check out the trailer below:
Idris Elba
also appears in the film according to
IMDB.COM
. Read up on Thandie's latest film project over at
THANDIE BLOG
.
Wale
my
new Afro male crush
has a new video out for "The Artistic Integrity":
Did you know that Wale is
Gbenga Akinnagbe's
cousin
? Gbenga is best known for
his role on the HBO series, "The Wire."
(Read up on Wale over at
EW.COM
)
UPDATE:
I forgot to add these interesting photos of
Idris Elba
smooching
Beyonce on the
L.A film set of "Obsessed"
.
Thanks
BEYONCEWORLD
!
If you're keeping track, Idris has been the leading man alongside
Gabrielle Union
and now Beyonce Knowles. Impressive, huh?
Photos: IMDB/BEYONCEWORLD
In celebration of
June being Black Music Month
, check out this throwback video of
Erykah Badu's
hit, "Next Lifetime". I chose this video because of the location and clothing depicted by Erykah - very Afrocentric. I also enjoy the love message Erykah is singing about. Read on on the video treatment over at
SOULBOUNCE
.
Rants/thoughts:
So how do you like these
new graphics
I created in this blog post? I had to make this
long
update somewhat interesting to look at.
I have to say congrats to my good blogger friend
Ladybrille
on showcasing the many talents presented at the 2008 Nigerian Entertainment Awards.
Nigerian Bloggers
I say to you keep up the great job! I see you
Boutique Mix Fashion
!
Afro/Naija News: