Yesterday in Los Angeles,
Idris Elba
filmed scenes with
Beyonce Knowles
for their upcoming thriller/drama film, "Obsessed".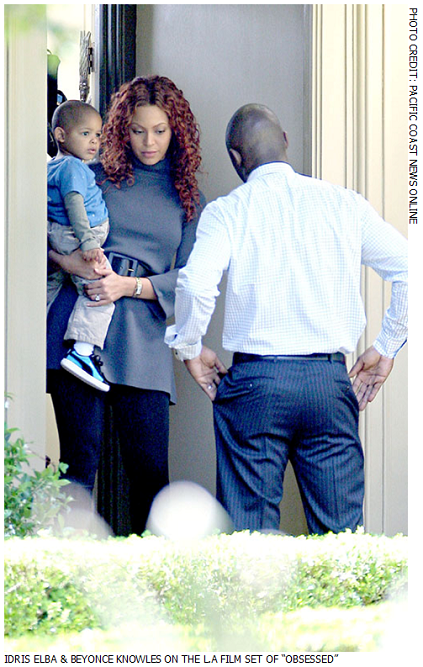 In the film, Idris and Beyonce portray a married couple by the name of -wait for it- Beth and Derek Charles. (Thanks
YBF
!) The movie doesn't open until February 2009.
Unfortunately all you can make out of the photos was Idris' backside but that's him alright! Did you also know that Beyonce not only stars in "Obsessed" but serves as the film's producer?
Talk about being Dangerously In Love. Beyonce Knowles will act in and produce Obsessed, a new stalker thriller in the vein of Fatal Attraction, according to Variety. The publication states that the film, which stars Idris Elba and Ali Larter, will start production this summer; "Elba will play an asset manager who has a knockout wife (Knowles) and thriving career until a temp office worker (Larter) begins stalking him."

[

MONSTERFEST

]
The premise sounds promising!
Photo credit: PACIFIC COAST NEWS ONLINE/
GOSSIP GIRLS
Michelle Obama
has become a cultural icon officially through the black and white
Donna Ricco
dress she wore for her recent appearance on "The View".
Photo credit: AP Photo/ABC

The dress can be purchased at your local White House/Black Market boutique for $148.
The dress
retails for $99.00 on the designer's official online boutique
and it's currently sold out. Check out the following clip of Michelle on "The View" and
the designer's interview
on the "Today" show...
source:
MSNBC
Rants/thoughts:
Naijas born here in America versus the ones born in Nigeria.
Why the beef?
Aren't we all from the same place technically speaking? Sometimes I feel as though the ones born outside of Nigeria
wear their pride more
than
ones born in Nigeria
. Sometimes it's the
other way around
. This hot button topic
almost
always arises whenever a female Naija decides to wed. Then there's talk of sending her to Naija so she'll know where she's from! Things that make me go hmm...
Case in point:
Fast-forward to 6:41 to get what I mean...
Don't you love how you can easily spot a Naija in any crowd? Whether you'll be out waiting for your train or on line for your morning coffee, you can easily spot a Naija.
Disclaimer: just my cents and it's all in good humor!

In celebration of June being Black Music Month, enjoy this clip of a Soukous-styled song called, "Sina Makossa":
Afro/Naija News: