Chiwetel Ejifor
(one of FG2BH's favorite Brit imports) has a 7-page pictorial in the
June issue of "King" magazine
. Chiwetel discuss with "KING" about being a style icon. "I clean up very well," says Ejiofor. "Whenever I get styled, there's this unnatural sheen that never fails to surprise me".
"Some actors are overly concerned with fashion," says Ejiofor, who's currently headlining "Redbelt", a mixed martial arts-centered mortality tale. "Not me. It's acting first and style a distant fourth or fifth."
The film roles Chiwetel associated with has certainly got the attention of Hollywood, right? All he needs is the right film to get that beloved Oscar nomination!
Check out the trailer for Chiwetel's latest film, "Redbelt" AND the interview he did with "ReelTimeTube" below:
---
Onto the other notable Naijas/Africans in the media...
Estelle
has made signficant headlines since that
whole Duffy debacle
. The record executives over her record label Atlantic Records apparently forced Estelle to
change her boyish hairstyle and her characteristic teeth
.
Sandra Rose
has proof (see photo above) that
Estelle
caved into the pressure. Image in the music industry apparently equals into album sales for FEMALES....but not so much for MALES (**coughs**Fat Joe).
Let's just hope Estelle doesn't change her fly hair style or her
eccentric style
.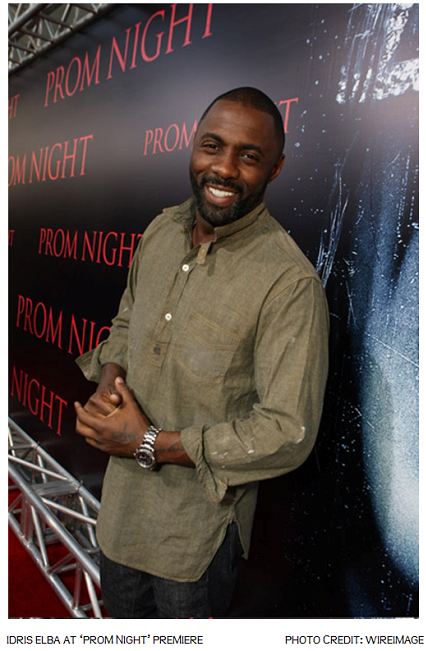 Photo credit:
MOVIES.YAHOO.COM
/SCREEN GEMS
Idris Elba's
film "
Prom Night
" landed at the number one spot in its opening week. Congrats to Idris Elba (
my Ghana brother from another
)!
Idris dropped by the "Tyra Show" on Thursday April 17th to promote his film, "Prom Night". Tyra sure has a way of bringing out the fun side of any person she interviews.
You can expect much more from Idris on the big screen in the coming year. Elba has five feature films that you read up about over at
IMDB.COM
.
Comedian
Godfrey
added this new "GQ"-inspired photo shoot onto his
official myspace page
. If you checked out Godfrey's
myspace spot
, you'll notice he showcase his favorite running presidential candidate.
Rants/thoughts:
When Nigerians throw a party, we come in large numbers. When Nigerians throw a party with a theme, something unexpected occurs. Some follow the theme and others simply didn't get the memo. A popular theme is the everyone-wear-your-traditional-attire. Why is that a select few just doesn't want to cooperate?! Lastly why do they (the ones who didn't get the memo) get offend when question about the whereabouts of their outfit??! Things that make me go hmmm....
disclaimer: rants are all in good fun!

Hoopla from the Naija blogosphere: