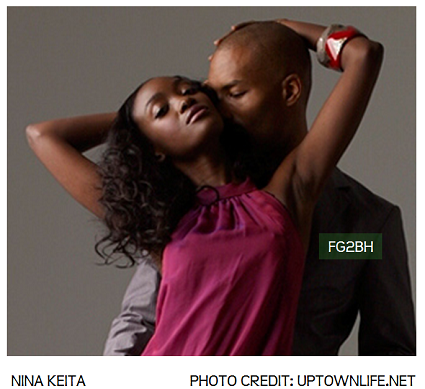 Nina Keita
, an aspiring model from Ivory Coast, has a photo editorial in the April/May issue of "Uptown" magazine. Some of you may recognize her from that
"Old Navy" commerical
.
Photographed by Sergio Kurhajec, Nina modeled Spring's latest looks from Tibi, Giuseppe Zanotti, Gucci, Catherine Malandrino, Tracy Reese, and Calvin Klein.
Related links on Miss Nina Keita:
Should we call Nina a star in the making? She already landed a major marketing deal with one of the biggest retail chain in the country. What's next - Victoria's Secret? Gap? Macy's? Target? Exposure is exposure right?
My unashamed cloud 9 affair with
Idris Elba
went up several clouds when he dropped by "The Sauce" to promote his new thriler, "Prom Night" on "The Sauce". Co-starring Brittany Snow of "American Dreams" and "John Tucker Must Die" fame, the new film project from
Idris
opens nationwide on April 11. Check out the trailer below:
And in
better-late-than-never news
, Idris happens to be of African descent. I blame my late reporting on my argument on whether or not to claim him as a talented actor with a
African
name. I also blame this reporting on the drama that occurred when I claimed
Nas
,
Ne-Yo
, and
Golden Brooks
as
Nigerians
.
Mr. Elba
has appeared in several notable films like "American Gangster" (Denzel was sooo wrong!), "This Christmas" (Do I need to rent this?), "Daddy's Little Girls" (he was soo good). He will have Beyonce Knowles-Carter as his leading lady in "Obsessed". Learn more about Idris in his own words...
Quick Facts about Mr. Elba via IMDB.COM:
Idris took his daughter Isan to the premiere of his film, "Daddy's Little Girls"....




He is an only child to a father from Sierra Leone and mother from Ghana.


He appeared on the cover of Essence's "Hot Hollywood Men" issue way back in April 2004. (Cover shot by Kwaku Alston) And yes I had to pull out my copy of "Essence" and scan the snapshots for my FG2BH readers and lurkers...



And of course I had type up a interesting quote from him for my FG2BH readers. In the "Essence" interview, Idris revealed his little secret.

I have a foot fetish. I guess it's because you never see a woman's feet unless they're wrapped around your shoulders.

Photographed with Idris are actors Delroy Lindo, Blair Underwood, Carl Lumbly, Michael Ealy, and Matthew St. Patrick.


His birth name is Idrisa Elba.


He is known for his role as Stringer Bell on the HBO series, "The Wire".


He reguarly updates his myspace page.


He's a DJ called IDRIS aka DJ Driis
Related links on Mr. Idris Elba:
Thoughts on the West Africa talents Nina Keita and Idris Elba?Off Topic:
I stumbled into Aleesha Renee of BET fame and Charlie Murphy today filming a segment at a barbershop called "The Shop". Charlie is just as funny as his brother Eddie. I guess it's genetic.
Photos: uptown, wireimage,
CL
, Diego Fuga