Thandie Newton
has been busy juggling her movie career with her two daughters. From attending the Fendi runway show at the Great Wall of China to celebrating
Matthew Williamson "10 Years in Fashion Gala",
Thandie Newton
has pull in many frequent flier hours from her London home base but her red carpet look never changed.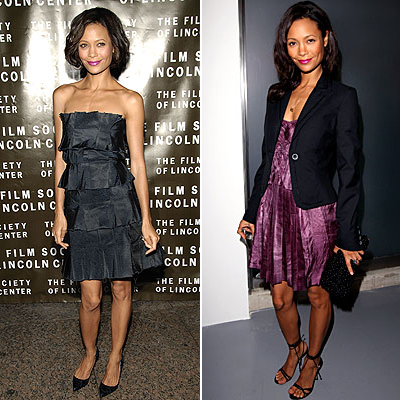 [
from left to right:
In a tiered Marc Jacobs dress at the New York premiere of "Run, Fat Boy, Run". Attending the Established & Sons gallery opening in London.]
[
from left to right:
Dazzling in a purple asymmetrical frock at Kuro black screen party. Wearing a pair of black Givenchy Open Toe d'Orsay pumps at the Hospital Awards.]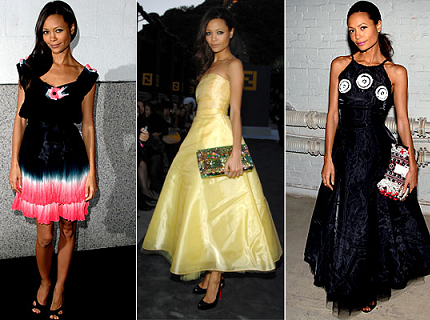 [
from left to right:
In a tie-dye Matthew Williamson dress at the designer's 10th year in fashion business gala. In a yellow strapless Fendi dress and a pair of black patent leather Christian Louboutin slingbacks at Fendi's Fashion Show in Beijing, China. In a black halter gown and her favorite pair of Givenchy heels at the Fendi dinner prior to the show.]
And in related news...

Thandie Newton alongside daughters (Ripley, 7, Nico, 2 1/2) spent the day at Studio City Farmer's Market in Los Angeles on Sunday afternoon.


The mother of two
has been busy filming the Guy Ritchie-directed film RocknRolla costarring Gerard Butler and Jeremy Piven.
[feels good 2 b home]