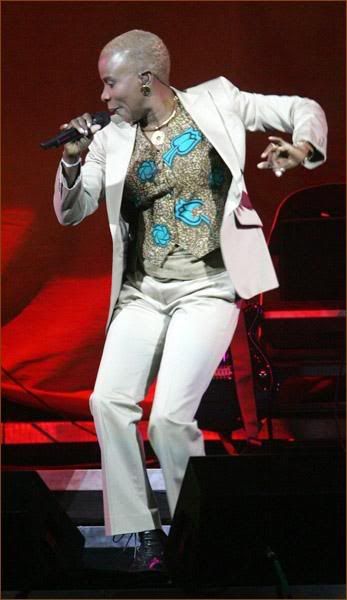 West African singer Angelique Kidjo danced away at her concert stop in San Jose.
[photos by J. Medina]
In related news, Angelique Kidjo gets a positive review on her upcoming disc that features duets with Alicia Keys, Sade, and Josh Groban:
The title of Angelique Kidjo's latest album, Djin Djin, roughly translates to "seize the day" — an appropriate directive from the West African singer, whose career now spans 20 years. Kidjo fuses Afro-funk, salsa, reggae, gospel, jazz and more with shades of classic American rock, pop and soul: James Brown, Aretha Franklin, Jimi Hendrix, Carlos Santana and more.
Whether drawing on her musical roots or experimenting with hip-hop, dance and electronics, Kidjo's albums have featured fascinating collaborations, including work with Branford Marsalis, Cassandra Wilson, Dave Matthews and Santana. Djin Djin, produced by Tony Visconti (David Bowie, T-Rex), opens with a few would-be club hits before offering a haunting take on The Rolling Stones' "Gimme Shelter" — a reunion with Santana — as well as duets with Josh Groban and Sade and a song featuring Alicia Keys and Marsalis. Nothing if not ambitious, Kidjo continues to stake out new ground.
[
NPR.ORG
]
Fun Facts about Miss Kidjo:
Kidjo is fluent in Fon, French, Yoruba, and English and sings in all four languages and also her own personal language which includes words that serve as songtitles such as Batonga. Malaika is a song sung in Swahili language. She often utilizes Benin's traditional Zilin vocal technique and jazz vocalese.
More on Miss Kidjo visit these cool links: