Notable
Africans
and
Nigerians
are featured on the latest magazine covers...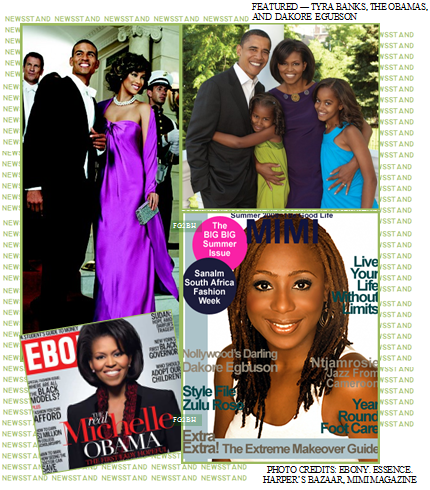 First up is the talented Naija actress Dakore Egubson on the
Summer 2008 cover of "MIMI" magazine
. Dakore told the African publication that she plans to produce movies and television shows.
Be sure to vist Dakore's official site -
DAKORE.COM
! Many thanks to Mimi magazine for sending over this cover to FG2BH!
Barack Obama
and Michelle Obama are the newsstand starlets. Michelle has a cover gig on "Ebony" magazine then she joins her husband and children for a cover spot on "Essence" magazine. According to
WWD
, the Obamas has
even more
Fall 2008 newsstand press.
Bossip
has the scoop on Michelle's Ebony interview:
On her style…
"I do think what you wear is a reflection of who you are. I love to look glamorous when there's a wonderful, purposeful event that is appropriate. But when I'm in Iowa campaigning with the girls, I am in Gap shorts and a T- shirt."

On being a mom…
"My first job in all honesty is going to continue to be mom-in-chief," she says, "making sure that in this transition, which will be even more of a transition for the girls…that they are settled and that they know they will continue to be the center of our universe."

On being married to Barack…
"Barack and I—as partners, as friends and as lovers—we accessorize each other in many ways," she said. "The best thing I love having on me is Barack on my arm and vice versa, whether it's having him standing there smiling at me, or watching him mesmerize a crowd or talk to some seniors in a senior center."
Photo credits: Ebony. Essence.
Pop-Junkie
.
Tyra Banks
took her appreciation for
the Obamas
by dressing up as
Michelle
for the September 2008 fashion edition of "Harper's Bazaar" magazine.
The glossy photo session has Tyra at home with a fictional
Barack
, in the Oval Office with fictional daughters
Malia
and
Sasha
, celebrating a victory, and reading a children's book to kids. The irony - Michelle's not as paparazzi loving as Tyra. Brigitte from
Make Fetch Happen
has the cover photos of Tyra's HB gig.
Favored Fashion Fix
has a must-see behind the scenes clip taken from the photo session.
Photo credits:
CL
. Alexi Lubomirski for
Harper's Bazaar
Site to visit:
5 Pt Mag.com
Isn't this FG2BH feature long overdue?!
Ebby Agu's
"
5 Point Magazine
" has been in business since December 2007. Each issue includes fashion tidbits, photography, interviews, a blog spot, and interactive forums from the editor's point of view. FYI: The editor (a childhood friend of mine's) has a great eye for photography. Check out
his online photo album
for further evidence.

http://5pointmagazine.com/
Click on the screenshot to access the dope Naija-produced blogazine!
My uninhibited rants & thoughts:
So I spent the afternoon in Manhattan with close family relatives fresh from their long plane ride from Dubai. All of us squeezed ourselves onto the overcrowded sidewalks of W 37th street window shopping and sightseeing when all of a sudden a shop owner stops us with a classic question -
"Are you guys Nigerian?"
Before I could utter a response on the behalf of my group - the shop owner continues with his questions.
"Let guess you're from Lagos? Abuja? Port Hartcourt? Right?"
Now the non-African/Nigerian man has on all of our attention. We take a look at his window display to be amazed by the custom made dresses and skirt suits. Apparently his core customer base is
Nigerians
. Pressed for time as his store
wasn't our
destination shop, he pass along his business card.
Effetto Fashion Inc. 18 West 37th Street
Give his business a look/see when you're in town!

Anyone interested to see the incoming talents at this year's American Black Film Festival? I know I am...


August 7-10 in L.A
ABFF.COM
!
So funny story the other night with my TV included
Boris Kodjoe
. While channel surfing in between commerical breaks of "Soul Food" (which is on BET J weekdays), I stumbled into Boris
-again-
on BET via "Madea's Family Reunion." Oh so rare and funny to see Boris twice on my TV, lol!
Don't you hate when the one thing you're looking for is
right in front of your face
???
AHHHH!

disclaimer: all thoughts are meant in good humor!
Afro/Naija News:
That's all folks!