Nnenna Agba
from "America's Next Top Model" Cycle 6 was seen at the 2nd Annual Illusions Cosmetics "Sparkle, Shimmer & Shine" last month. Nnenna covered the event with
ZAIN
- a leading mobile telecommunications company.
You gotta love Nnenna in those True Religion jeans...and her fierce hair cut!
Photos: PR Photos/EXPOSAY.COM
Long after Nnenna
famously cut off her hair on "ANTM"
, she still maintains her low-cut hairstyle. The bald/buzz hair definitely fits Nnnena, don't you agree??? If you can't remember when Nnenna
had hair
, don't worry I got you covered...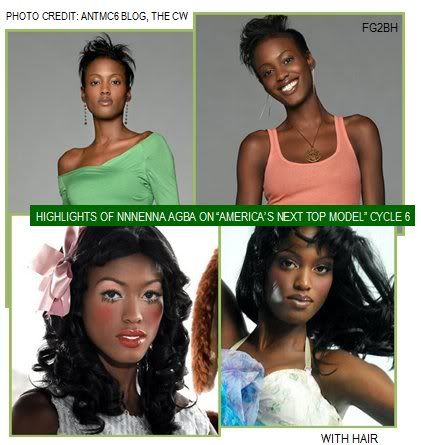 Photos: THE CW/ANTMC6 BLOG
Not too long ago, Nnenna updated her
myspace photo album
with these fun photos taken from a Paris magazine July 2008 photo session. No the name of the magazine isn't "Paris" nor is it "Sring" apparently. All I do know is that photography was done by
Stephane Gizard
:
Nnenna rocked a few couture pieces and yummy shoes from
Jil Sander Spring/Summer 2008 ready to wear collection
. Anyhow, check out a few of Nnenna's looks straight from Jil Sander Spring 2008 ready to wear collection. Thanks
Elle
!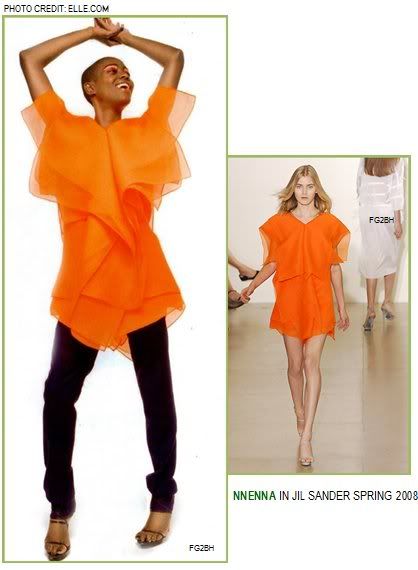 Summer is almost over. August is quickly creeping up and
winter would be here
all over again. Speaking of which, find out the latest Fall 2008 trends to have in your closet
here
.
Photos:
Nnenna's myspace
, ELLE.COM, Stephane Gizard

Ovie Mughelli
was picked as one of
Essence magazine's "Do Right Men 2008"
. Check out the behind the scenes video
here
and the shirtless photo of Ovie below...
That one was for Wienna! Check out Ovie's biography as credited on
OVIE MUGHELLI'S DO RIGHT MAN 2008 PAGE
:
OVIE MUGHELLI,28
HOME BASE: Atlanta
PROFESSION:Atlanta Falcons fullback
DOING RIGHT:When he's not blocking defenders on the field, Mughelli helps 150 boys and girls win at life. His Ovie Mughelli Foundation uses summer football camps as a platform to support nutrition, education and health initiatives. "I wanted to impress upon these kids that working hard pays off, and I wanted to make sure other kids have what I did not."
WHY HE LOVES BLACK WOMEN:"I love everything, from the fullness of their lips to the curves of their body."
ROMANTIC MOVES:He'll trade his playbook for a cookbook and work hard to captivate with five courses.
HERO:"Kess, my older sister. She's like a second mother to me. As a doctor, she had to work so hard to get to where she is today and she always believed in me."
MOTTO:"You are not your own. Any greatness you achieve you did not accomplish on your own. It's your -responsibility to do what you can to bless someone else."
E-MAIL OVIE: dorightovie@essence.com
So you read his bio, now vote for Ovie
here
!
Black Voices Blog
recently revealed the first preview taken from
Sophie Okonedo's
upcoming film, "The Secret Life of Bees."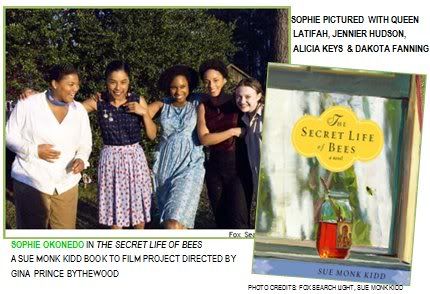 So I did a quick Google search to find out more about Sophie's film.
She is Unique
has additional details on the film. Check out the article as written by
Wilson Moracles
for
AOL Black Voices Blog
:
If you are looking to be among the first people to 'The Secret Life of Bees', which stars Jennifer Hudson, Dakota Fanning, Queen Latifah, Alicia Keys, and Sophie Okonedo, you will have to get a ticket at the Toronto Film Festival, where it will make its world premiere.

Also featured in the film are Tristan Wilds, Nate Parker, Paul Bettany, and Hilarie Burton.


The festival will run from September 4 through September 13. Also showing there will be Spike Lee's 'Miracle at St. Anna', and Guy Ritchie's 'RocknRolla' with Idris Elba and Thandie Newton.

Directed by Gina Prince Bythewood, the film is based on a 2002 bestselling novel by American author Sue Monk Kidd.

Set in South Carolina in 1964, story centers on Lily Owens (Fanning), who escapes her lonely life and troubled relationship with her father by running away with her caregiver and only friend (Hudson) to a South Carolina town that holds the secret to her mother's past.Latifah, Okonedo and Keys play the three sisters. [BBV]
side note:
Idris and Thandie in the same movie
TOGETHER
? In the words of Ashanti, "
Yo, that bananas!
"
"The Secret Life of Bees" trailer:
With that all-star cast, you can't go wrong. Hopefully JHud, Alicia or Queen contributed a song or two to the film's soundtrack. Anyhow the book was
fabulous
so I cannot wait to see how the movie turns out.
Rants/thoughts:
Ever gone to
one Naija party
and get tired of the
same process over and over again
? For instance, you sometimes feel the party/event is a
repeat
of what happened at
the last
. What happens when you're
not tired
of it but the
folks throwing
the occasion does! What do you do? Do you leave the party early or do you stay?
disclaimer: all rants/thoughts in good humor!
Afro/Naija news:

And I'll leave you all with this Amy Winehouse jazzy-soul song that I absolutely enjoy. "Tears Dry On Their Own" samples my
favorite Marvin Gaye-Tammi Terrell's 1967 Motown classic hit "Ain't No Mountain High Enough"
which I placed under the video:


Marvin Gaye & Tammi Terrell


Okay I couldn't resist adding this verison from "Sister Act 2"...


Props to
Ashford & Simpson
! ;-)