Oluchi Onweagaba
pose for the 2008 swimsuit edition of "Sports Illustrated". This photospread comes fresh off the
news of her baby arrival
. Oluchi and her designer husband Luca Orlandi welcomed a
baby boy named Ugo
last year.
If you compare
last year's photosoot
to this year, Oluchi does NOT look like she pop a baby!
Shot on the sandy beaches of St. John, U.S. Virgin Islands, Oluchi pose for SI photographer Randall Grant. (And she pose happily with her wedding ring, I might add.)
[Photo credit:
SI.COM
]
That modeling swagger is undeniable, isn't?! The fabulous folks over at
Naija Gal
has a behind-the-scenes clip of
Oluchi
on the beach set. In the meanwhile, check Oluchi in a yummy yellow dress at Sports Illustrated Swimsuit Issue Launch in NYC:
[Photos: WIREIMAGE via Bella Naija]
Related links on Oluchi Onweagaba's SI 2008 look:

2007 Sports Ilustrated Swimsuit Gallery - SI.COM
Thandie Newton
has clearly proven that a girl cannot wear one too many black ensembles...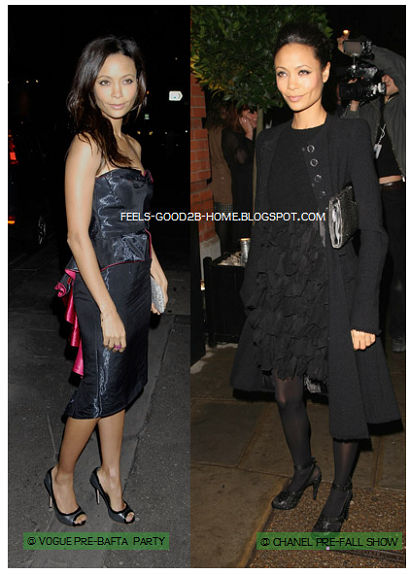 [photo credit: wireimage]
Whether Thandie's outfit has black or lace, she has consistently wore it on her past four catwalk gigs. Maybe Thandie's experiencing the
same style runt that Estelle
also has going on??!
[photo credit: wireimage]
Songs I'm Loving at the moment:
Janet Jackson - Discipline
Once you get past the lyrical content of Janet's slow ballad, the melody is so addictive.
Brandy - Necessary
Brandy grooves over this Cee-Lo produced track which happens to be one of my faves off Brandy's last record, "Afrodisac".
I rotate these two songs back and forth on my iPOD.

Events that went down on April 7th:

1927 - Babatunde Olatunji, Nigerian drummer (d. 2003)
Jin-go-lo-ba (Olantunji's song - Santana famously covered it) at Palookaville in Santa Cruz, California. [YOUTUBE.COM]
Afro/Naija news:I don't say this often but thanks for all the positive feedback you provided FG2BH with since its Oct. '06 launch. All the e-mails and comments are very much appreciated.