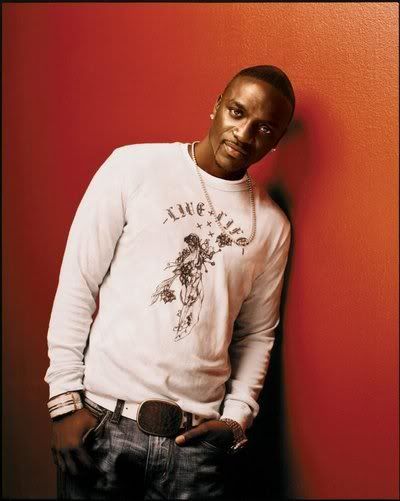 R&B sensation
Akon*
is looking to `out bling' "
Guinness World Records
," inductee Lil' Jon by
creating the biggest diamond pendant ever
. Rapper Lil' Jon made history recently when his 12 pounds, 73 carat Crunk Aint Dead piece earned him a place in the record books. But Akon, who owns a diamond mine in his native Senegal, is hoping to trump his jewelry rival with a flashing pendant in the shape of Africa. He tells Rolling Stone Magazine:
"I got this one piece that definitely will tear the whole game up; it covers my whole stomach. "It's the continent of Africa and the diamonds actually light up... It's crazy. And the country where I'm from has a little light bulb that constantly flashes. Mine weighs about 10-to-15 (pounds)... Once I show it off, I'm gonna auction it off and all the proceeds are going to go to my foundation." And Akon insists he'll turn his back on the bling-bling game one he's made the record books with the elaborate piece. He adds, "I'm kinda retiring from the jewelry thing, the whole bling-bling thing... By next year you're gonna see me with a simple watch, a simple necklace."
Akon was spotted in the studio with Chilli and Xscape's Kandi recently:

*Feels Good 2 B Home congratulates Akon on landing the #1 and #2 songs in the country! "The Sweet Escape" with Gwen Stefani and his own "Don't Matter" are currently on top of the Billboard charts!
*UPDATE*
Akon's 'Don't Matter' began a second week at No. 1 on the Hot 100 singles chart Thursday, and he shared the No. 2 spot as featured artist on Gwen Stefani's 'The Sweet Escape.' Here he is performing with Gwen Stefani at the Kids Choice Awards:


According to SOHH.COM,
"Kanye West, Ludacris and Akon are among the list of hip-hop artists slated to perform at the U.S. portion of the international Live Earth concert set to take place in July."
Tickets for the event will go on sale Monday (April 16) at 10 a.m. EDT and will be available at livenation.com or Ticketmaster.com.