Senegalese native
Akon
is currently on tour with Def Jam pop princess, Rihanna. Last night in New York City, the pair performed at a benefit for UNICEF and the Sarah Ferguson Foundation.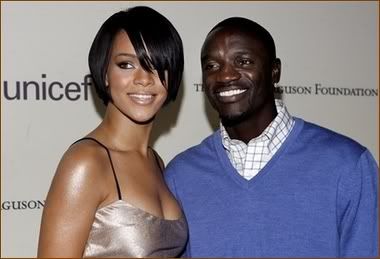 [images via
oh-rihanna
]
So would this joint tour produce a Rihanna and Akon song in the near future?
And in related news, Akon spilled the beans
-figuratively speaking-
on working with MJ.
"He's incredible. He's a genius. Just to be in the same room (with him), I felt everything I wanted to accomplish in life has been achieved. We're about to shake the world up, man. You know how you be with somebody and you can't even explain? The way he thinks...some artists think regional, some think national, I was thinking international. He thinks planets. It's on another level. [source]
Akon and Michael Jackson on the same song?!
[feels good 2 b home]