Chiwetel Ejiofor's
latest film is "
Talk to Me
" which co-stars Taraji Henson, Mike Epps, Don Cheadle, and Cedric The Entertainer.
Recent BET Awards Humanitarian winner Don Cheadle and Chiwetel Ejiofor in a scene from "Talk to Me."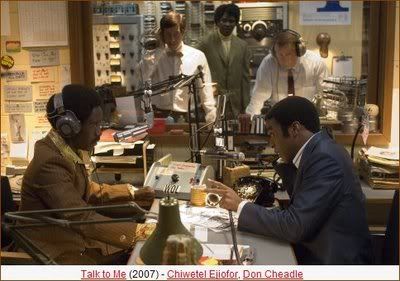 jacked from
Concrete Loop
:
The 2007 Los Angeles Film Festival had a special screening of the new Don
Cheadle flick, 'Talk To Me' which co-stars Chiwetel Ejiofor, Taraji Henson, and Cedric The Entertainer.

The movie is follows the life of African American ex-convict Ralph Waldo "Petey" Greene Jr, who became a radio and television talk show success, but couldn't overcome his alcohol addiction. It will be hitting theaters in limited release on July 13th, 2007.

Talk to Me Poster:
click on the poster to learn more about the film! all images c/o
IMDB
.
[feels good 2 b home]