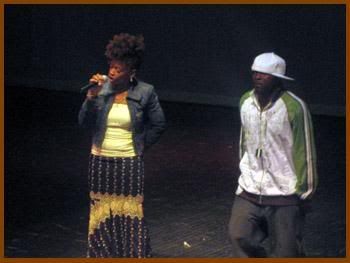 The self proclaimed "ORIGINAL AFRICAN QUEEN OF HIP-HOP"
Madarocka
was one of the musical artists that rock the stage at the Naija fashion event at NYC's own Lehman College.
Date: 1st October 2006
Venue: The LOVINGER THEATER, LEHMAN COLLEGE
The City University of New York
250 Bed ford Park Boulevard West.
Bronx, New York 10468
Spearheaded by the African fashion show showcasing the Naija clothing styles from clothing lines
The Obongess Fashion Line by Regina Askia
(Former Ms Nigeria),
MOSHOOD
,
Modivah Fashions
,
Mon Ami (from Nigeria)
, and
Nigerian Fabrics and Fashions
,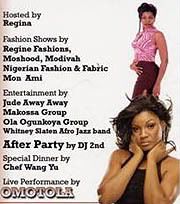 Madarocka performed a catchy rap-infused song that got everyone out of their seats. Madarocka is helping to bridge the gap between Naija and hip-hop lifestyles.